Registration - Please follow link To
Sign Up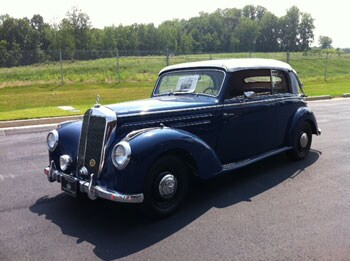 Whether it's the beauty, styling, or advanced technology of the automobile that intrigues you, there will be something for everyone to enjoy at the Atlanta Classic Cars 2011 Concours d'Elegance to be held Saturday, October 1, 2011. Many special vehicles will be on display at the celebration of 125 years of the invention of the automobile. In addition to this ultimate car show, the celebration will include an unveiling of original Mercedes-Benz artwork by Atlanta artist, Mark Boomershine. Several awards will be presented and determined in various categories including People's Choice- all Gwinnetians are encouraged to come out to vote on their favorite! The Mercedes-Benz Club of America, Peachtree Section, will be co-hosting.
The showcase will feature Mercedes-Benz models throughout the decades plus domestic and other foreign classics including exotic cars, muscle cars, even trucks and motorcycles. "We are thrilled to host a beautiful array of Georgia's automotive delights on a day filled with fun activities for everyone!", says Johanna Ellis, Co-Owner of Atlanta Classic Cars. Vehicles already registered include current Mercedes-Benz supercars, racecars, vintage Aston Martin, Ferrari, Chevrolet, and many more. The Concours will feature a special "Art Car", in addition to a Boomershine painting for the 125 Years Celebration of Mercedes-Benz. Both pieces are not to be missed.
Bring your family and friends for the celebration to include live entertainment by the Jordan Shalhoup Quartet, giveaways, food and refreshments. The event is free of charge to the public at 10 am with judging from 11 am to 2 pm. Registration is still open for your unique show quality vehicle. The show will be held at Atlanta Classic Cars, 1705 Boggs Rd, just off I-85 in Duluth. Event details are available on Facebook and will be updated as additional vehicles register!
Proceeds from the event support the Atlanta Classic Cars team for Susan G. Komen 3-day walkers supporting cancer research. Information on registering cars for the show can be found at: www.atlantaclassiccars.com or email:
RSVP@atlantaclassiccars.com
.
1958 Harley Davidson Servi-car purchased in 1964 when Boomershine Service Center at 390 Spring Street in downtown Atlanta was one of the nation's largest GM dedicated service facilities.
It was originally equipped with a front hitch that attached to the steel bumpers that all cars were equipped with at that time. The motorcycle rider would ride the Servi-car to the customer home or office, attach the Servicar to the customer's car and bring both back to the service Center for a lubrication or repairs needed. When the work was completed the customer's car would be returned with Serv-icar attached and our motorcycle rider would disconnect the Servi-car and return. The service was provided at no charged for over ten years and the only driver of the Servi-Car for Boomershine was Mr. Sonny Whiting, a long time employee of Boomershine.
This Servi-car was stored for over 30 years where it fell into disrepair. A complete historically accurate restoration was performed by Hartford Motorcycles and was a gift from the family to Walter Boomershine for he and Mrs. Boomershine's 50th wedding anniversary in 2000.
Registration forms can also be obtained by contacting
Paula Locke at Plocke@atlantaclassiccars.com or by calling (770) 279-3600.

Early Registrants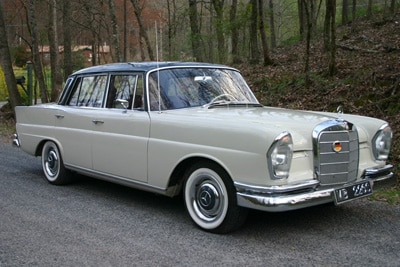 This 1965 220Sb is owned by me, Alex Tibcken. I started working on the car at age fourteen. It was an abandoned restoration, a bare shell, with many parts missing. The restoration took about 14 months. In the past four years the car has been to many shows across the eastern United States. The seven thousand plus miles I have personally driven since the restoration was completed covers shows as far south as Macon, GA, as far north as Montvale, NJ, and as far west as Indianapolis, IN. The car is kept busy during the show season attending lots of local shows where even among Mustangs and Bel-airs, the Benz holds its own.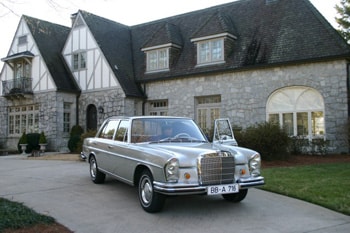 1967 300SEL 109.015 chassis. This one of only 260 officially imported into the US. My car is completely original save a high quality repaint in the mid 90's. The car was featured in the Mercedes club national magazine and is a joy to drive.
Drew Tibcken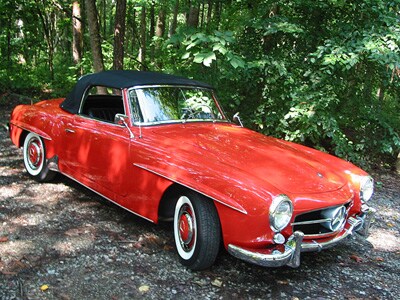 "NIGHTMARE" #5 BMW ITS
1987 BMW 325is e30racing SCCA/NASA.
Layout : frt engine, rear whel drive.
Engine : 2.5Liter, in-line 6 cylinders
Horsepower : 200+ at 6800 rpm
Torque : 200+ at 6100 rpm
Transmission : 5 speed BMW racing Getrag Suspension : Koni coilover double adjustable front.
Carrera coilover double adjustable rear
Tires : Hoosier R6 225-45r15 frt & rear.
Weight : 2750 lbs.
Things to Know
This BMW was race prepared in our service department at ACC in 2008 by Ryan Payne & Mauricio Montana, Two of our senior techs. This BMW took second place for the Pro-It (ITS- Improve Touring Specification) class Championship this year at Road Atlanta, piloted by Mauricio Montana.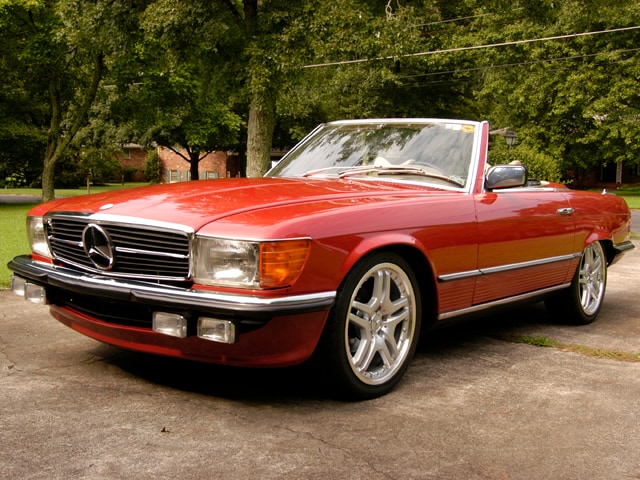 1974 450 Sl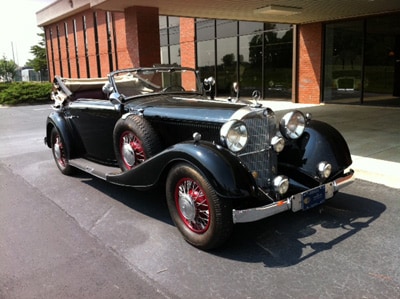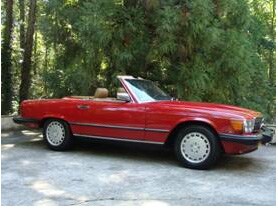 1966 Mustang